TetrisLight ™

A lamp that gives you a nostalgic feeling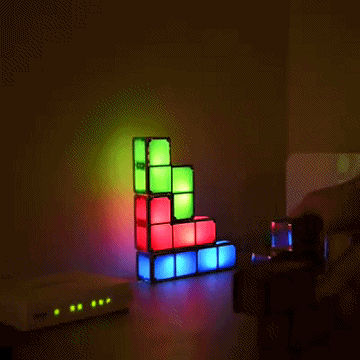 Bring Tetris into the real world with the TetrisLight. The seven included tetris blocks radiate a warm glow. Delete a shape and it goes out. Chrome-plated tubing on any translucent shape safely conducts low voltage, allowing the light to shine even when two pieces are barely touching.
A nostalgic and interactive light
The TetrisLight works by connecting the main block to a power supply. By placing the other blocks on it, the electricity is shared securely, causing the blocks to turn on. You can safely remove the blocks to take them out again. Use your creativity and stack the blocks in a unique way!
The perfect clarity
The brightness of the TetrisLamp is bright enough to see the beautiful, vibrant colors of the tetris blocks, yet it is dim enough to function as an atmospheric lamp that would work great as a night light.
Made to last for years
Each block is made from a durable polymer that ensures that the TetrisLamp can be used for years. It also provides the safety that allows handling of these blocks.
Specifications
Power supply: Adapter
Quantity of colors: 7 colors
Package weight: 0.72kg
Package Size: 30 * 21 * 4.5cm
Guarantee
We believe in our product and want to make online shopping as safe and secure as possible, which is why we offer a 14-day money back guarantee.